The Snap-In Carpet Specialists!!
Request Information or Samples
Thank you for your interest in our services!!
Here at Custom Marine Carpet we stock templates of the more common model boats but can also work from the customers provided template or existing carpet which can be boxed and shipped to our location. In the case where the boat does not have existing carpet or are looking to carpet a presently un-carpeted area, we can work from customer made templates. Click here "Template kit" to purchase our kit. Please feel free to use the form below to ask any questions you may have or request samples. Thank you for the inquiry and we look forward to serve you!!
**FREE SAMPLES NOT AVAILABLE TO INTERNATIONAL CUSTOMERS** please inquire regarding sample cost.

When shipping templates to our location, please ship to:
Custom Marine Carpet
423 N. 9th St. Niles, MI 49120 U.S.A.


Phone Hours: Mon-Fri 9:00 am to 5:00 pm Eastern Time
Phone (269) 684-1922
Toll Free: 877-762-7461


TEXT US: 269-248-5037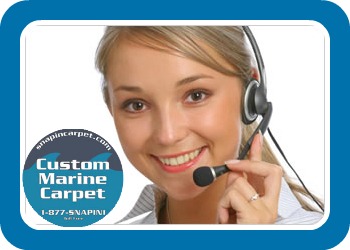 Turn-around time varies, depending on season. When using your old carpet as a template, we do not install the snaps using it as a reference. Snaps should be installed with the new carpet onboard to assure a correct fit. Old carpet is disposed of unless return requested. Thanks!
* = required
Back to Top
Reviews
"Nothing short of absolutely perfect! Your workmanship is great and they are an exact drop-in. Keep your templates as they are dead accurate. Thanks so very much, you made my day!"
View All Reviews