The Snap-In Carpet Specialists!!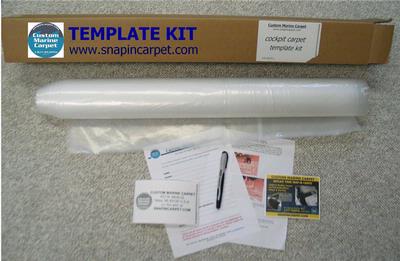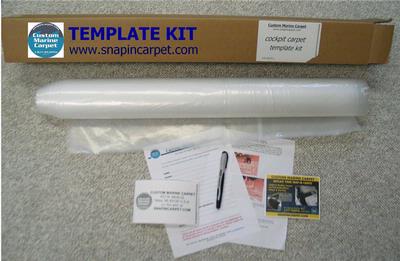 Template Kit
This kit contains the materials needed to make a usable template. This kit includes: template material (12'x6'), marker, templating tips, order sheet & return address label. Once the template is made it is sent to our location. We then contact you with a cost or any questions we have. If an e-mail address is given we provide a link to make payment securely online. This kit does not contain carpet samples as these can be requested for free at our "Request Info" page.
NOTE: THIS KIT DOES NOT CONTAIN A COCKPIT CARPET BUT RATHER THE MATERIAL TO PROVIDE US WITH A PATTERN TO MAKE YOUR NEW CARPET

TEMPLATE TIPS
Layout the template material and tape down to the floor, to help keep in place. Place the carpet to be traced on top of the material with the carpet fiber side up. Trace around the exterior edges with a marker. It is common that certain edges need to be made longer, just adjust the marker line. The template should be marked TOP or 'carpet side up'. Template should be marked forward in reference to the bow of the boat to assure the carpet grain will run in the same direction from piece to piece. Do not forget to mark the template with your information: name, email, & phone number.
If you want any of our snap-in teak options, you must make reference marks on each piece as to where they meet/ line up.