The Snap-In Carpet Specialists!!
Snap-In Carpet by Custom Marine Carpet



Click here to request Free Samples!

Custom Marine Carpet provides a variety of Marine Flooring! Some of our products include: Snap-in berber & cut-pile carpet, Teak carpet, Glue Down cut-pile carpet, Premium Synthetic Vinyls, Flex Dek Foam Flooring and much more to meet all of your boating needs & wants!

The very best in boat carpet!!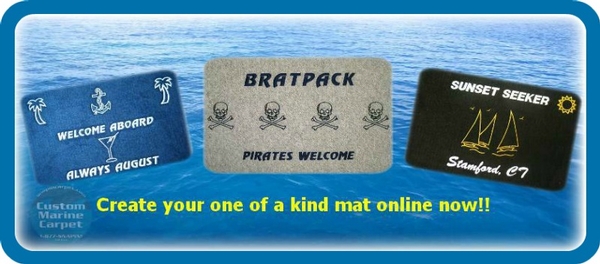 Snap-In Boat Carpet
Adding or replacing boat carpeting is a great and cost-effective way to get your boat shipshape! Your boat flooring is an easy way to add value and personality to your vessel. Snap-In Boat carpet offers stylish and durable carpet and woven vinyl trending in style, color, and texture that will make your boat the envy of the seas for years to come.

When it comes to marine grade boat carpet, technology is vital because your boat is in the water a majority of the time, and when you're out taking a cruise, water will inevitably get in your boat – and on your boat's carpet. Water can cause damage to your boat's flooring and cause horrible smells if the water just sits in the cut pile stagnating.

The Difference Between Boat and Regular Carpeting
Unlike regular in-home carpeting, boat carpet is made for the outside elements. Technology has created boat carpet that is water, stain, and mold-resistant. The technology is a nanotechnology that will create a barrier to any other molecules from entering the fibers of your high quality carpeting. That means even if you spill something onto your boat carpet, it won't penetrate the fibers before you can get it cleaned up, thanks to the blocking power of nanotechnology.

With Snap-In Carpet, your bass boat carpet, pontoon boat carpet, etc., are made to withstand the tough marine environment without fading or degrading. Carpeting isn't your only choice, we also offer marine vinyl flooring products. Our woven flooring, Marine Weave, is one of the best offered in the marine industry for the harsh marine environment, yet still offers a classy, finished look at a great price. This synthetic material is Anti-microbial, stain, and soil-resistant and made in the USA.

We offer carpet from 16 to 22 oz cut pile boat carpet, and installation is easy on a multitude of boat surfaces, such as:
Wood
Aluminum
Fiberglass surfaces
Snap-In Boat Carpet offers Marine carpet and other boat carpet products with durable rubber backing and boat carpet adhesives. If you need help, information, or samples, contact us today.

Boat Carpet Replacement by Custom Marine Carpet
The finest in Boat Carpet, Snap In Carpet, Boat Mats, Boat Carpet Replacement & Marine Carpet!






CUSTOM MARINE CARPET LLC 1-877-SNAPIN-1 (1-877-762-7461)
info@snapincarpet.com
Reviews
" I just wanted to pass on my thanks for your help in finishing this process! I am extremely happy with the outcome and in particular the product. The quality, finish and professionalism of service has been outstanding from start to finish. I deal with a lot of let downs from companies that I work with on a daily basis, even at a professional level. But, I am pleased to say you and your company have impressed me. Thank you again, I will most certainly recommend you to my friends! " Best regards, Mark Haylock
View All Reviews